5 winter wellness activities!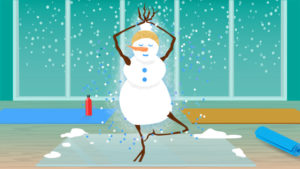 We know that when the weather is colder- a lot changes in New Jersey. Every trip out of the house is worth bundling up, and some days the weather keeps us inside all day. Here are five easy things you can do for a mental wellness boost in the colder months!
1- Indoor exercise. Open the blinds to your windows to let as much light into the room as you can, play your favorite music, and stretch your body. Did you know just 30 minutes of activity is only 2% of your day?! This is a perfect time to intuitively move your body, or follow along an exercise video. Our personal favorite videos to follow along with can be found on Youtube if you search "Yoga with Adriene" or click here. We love this youtube channel because Adriene focuses on movement as a benefit for not just the body, but the mind as well. Another reason is because Adriene has videos for all ages, skill levels, abilities, and more. Alternatively, a great way to support local endeavours is to tune into virtual chair yoga every Thursday via zoom with the Elizabeth Public Library, found by clicking here. Kathy Johnson leads this group and all you need is a sturdy chair and comfortable clothes!
2- Mind games. Playing games, it's not just for kids! Exercising your mind through virtual or physical games is a wonderful wellness activity. These include puzzles, Legos, crosswords, sudoku, card games, even coloring or reading. You can find adult coloring books for any interests these days. All of these things help to keep our mind and hands occupied even if it is just for a short amount of time.
3- Nourish your body. With more time spent indoors, cooking is an excellent way to spend time. Not only is the act itself beneficial, but you can eat your results! Finding simple recipes (we shared a yummy carrot soup recipe this week that has very few steps!) is a fun way to relax your mind or spend quality time with yourself or a loved one. When we respect our bodies, we care about what we put into them. This includes whole, nourishing foods while also recognizing that it's normal and okay to give into cravings!
4- Supplement vitamin D during shorter days. While we encourage people of all ages to spend time outdoors regardless of the time of year, we know this is hard in the cold. With less sunlight exposure, depleted vitamin D levels are bound to sneak up on us! We can include vitamin D in our diets naturally through mushrooms, fatty fish, fortified plant milk, fortified tofu, and egg yolks. We need vitamin D to build and maintain strong bones & teeth, but it has also shown to affect our moods.
5- Don't skip on self care. It is so easy to let self care slip away from us, especially in the stressful world we live in. With lack of socializing due to the pandemic and working/schooling from home, we can feel like we don't need extra self care if we weren't out and about during the day. But this is not true! We need self care more now than ever before including meditation and routines. Some of our best winter self care tips are as follows- Moisturize your body & face while your skin is still damp from washing. This will help seal in moisture more! Be mindful of the limited sunlight this time of year and use outdoor time & open blinds to your full advantage. (Continue to wear sunscreen regardless of UV levels!!) Stay hydrated. We know that feeling cold can make us less inclined to eat and drink, but keep in mind the moisture levels in the air this time of year are very low and we need all the hydration we can get to feel our best.