Winter Wellness recipe: Creamy Carrot Ginger soup
Winter Wellness recipe!
This turmeric carrot ginger soup is perfect for winter months. It is easy, warming, and nutritious. Carrots and sweet potatoes help improve vitamin A levels & our immune system as a whole. Makes 5-6 servings.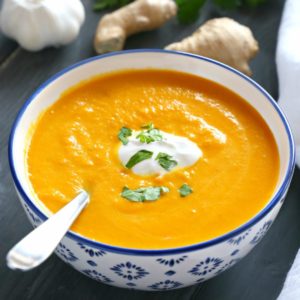 INGREDIENTS-
16 oz (or about 10 medium sized) carrots cubed
3 medium sweet potatoes cubed
1 small chunk ginger peeled
2 quarts vegetable broth
3 cloves garlic minced
1 can full fat coconut milk (no sugar added- make sure you check the label!)
Spices to taste- onion powder, sea salt, pepper, turmeric, nutmeg, and a dash of cinnamon.
DIRECTIONS-
Combine all ingredients into large pot over medium/high flame. Let everything come to a boil, then turn on low, cover & simmer for 60 minutes. After that simply emersion blend or use a blender until consistency of soup is smooth and creamy. This soup feels warm, hearty, and has a little bite from the ginger.
Garnish with greens and sour cream*
*BONUS sour cream recipe!
(makes about 1 1/4 cups)
INGREDIENTS-
1 cup raw cashews
2 tsp apple cider vinegar
1 tsp lemon juice
sea salt
DIRECTIONS-
Soak cashews in boiling water for 30 min, drain and place in blender or food processor with remaining ingredients. Blend until smooth adding water if needed.