Easy, Healthy, and Yummy: meatless chili
Meatless Chili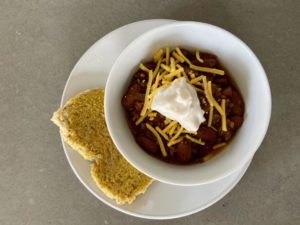 This recipe is super easy, and people always ask me for it after tasting! Rice and beans are packed full of essential nutrients, and they are some of the least expensive grocery items. In addition, they are both shelf stable for quite a long time, making them perfect to stock up while we endure the global pandemic. 
Ingredients:
1 large onion, chopped
2 TBSP oil of choice  
1 package of Gardein "ground beef" , Lightlife "ground beef" , or Morning star "crumbles"(If you are really trying to avoid processed food entirely there are great recipes to make your own textured vegetable protein or lentil mash out there!) 
1 can 28 oz crushed tomatoes 
1 can 28 oz pink beans
28 oz water
1 cup dry brown rice (cook following those rice directions prior to adding in) *Rice is optional, but I think it is delicious in chili*
Salt, pepper, onion powder, garlic powder to taste
3-4 heaping TBSP chili powder (I am always very generous with this and typically add in a little extra if you include the brown rice)
1 TBSP cumin
Optional: Vegan sour cream and cheddar cheese shreds. Some great options here and here for sour cream. Cheddar cheese options are here and here! There are truly too many brands with vegan options to list now!
Directions: 
In a large pot, add oil and chopped onion
Add "beef" crumbles of choice
Add crushed tomatoes, water, and rinsed pink beans
Add all spices
Bring to a boil, then simmer on low, covered for 45 minutes
*Optional, add in brown rice
Serve hot with dairy free cheese and sour cream! Bonus if you bake cornbread.